Special Privilege for KTC Credit Cardholders
Special Privilege for KTC Credit Cardholders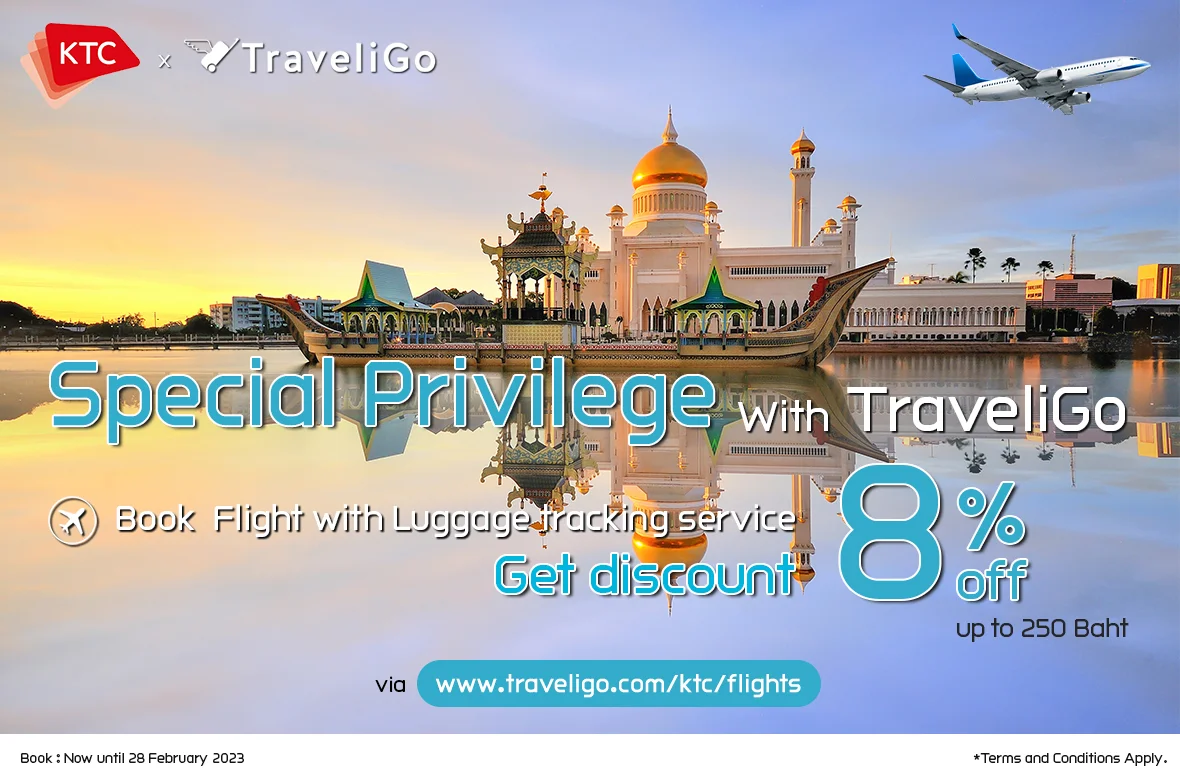 Special Privilege for
KTC
Credit Cardholders
When you book any flights in any destination, TraveliGo will give you a special privilege.
Just fill in your information to get a discount code and use the discount code before payment.
Get Discount 8% up to THB250* for booking flights
*Terms and Conditions Apply
Terms & Conditions
• KTC Credit Cardholders will receive 8% discount up to 250 baht when make a flight booking with luggage tracking service in destinations worldwide on
www.traveligo.com/ktc
and pay in Thai Baht (THB) currency only. Book now until 28 February 2023.
• The discounts will appear in the final stages of the reservation after putting the correct discounts code (Promotion Code).
• Minimum transaction 3,000 Baht per one booking.
• Limit 1 code/person. The discount is valid for online booking only.
• Please make a booking in advance depending on seats availability and our terms and conditions of
www.traveligo.com/ktc
.
• This promotion cannot be transferred or given to other collectors, change / exchange / refund.
• This promotion discounts cannot be combined with any other promotions.
• All flight booking depending on our terms and conditions.
• KTC is not be responsible, not be held liable for any part in any of the services provided by TraveliGo so if you have any questions or problems, please contact to TraveliGo directly.
• TraveliGo and KTC reserves the right to change terms and conditions or cancel this promotion without notice. In case of dispute, the decision of KTC and TraveliGo are final considered.
Special Top up camapign for Cashback with point redemption CLICK
Get 100 Baht cash back (with point redemption)
When redeeming every 1,000 KTC FOREVER points
To participate in this promotion : When the cardmembers have already paid for TraveliGo with KTC credit card, you can contact
KTC Call Center
Tel.
02 123 5000
to require for the installment payment privilege according to conditions under this promotion before billing date of each billing cycle of them only.
Answer your questions. Just call us at